Flexo Label Printing Machine
Flexo label printing machine which can used for printing , polyester cotton tape, synthesize tape, satin tape and all kinds of roll fabric tape .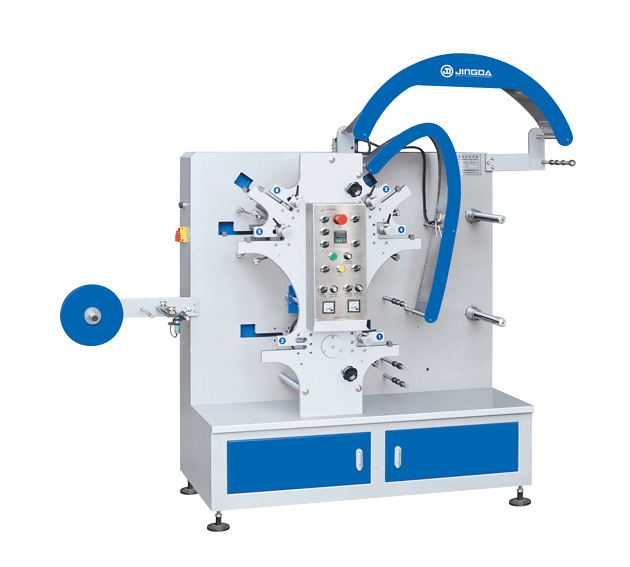 Main Technical Parameters
Model

JR-1520

JR-1521

JR-1531

JR-1532/1541

JR-1551/JR-1542


JR-1561/JR-1552

Printing Length (mm)
108-401
108-401
108-401
108-401
108-401
108-401
Printing Width (mm)
155
155
155
155
155
155
Printing Speed (m/min)
60
60
60
60
60
0
Clour
2,single side
3, (2+1)
4 (3+1)

5 (3+2/4+1)

6 (5+1/4+2)

7 (6+1,5+2)
Power
220V,

4.7KW

220V,

4.7KW

220V,

4.7KW

220V, 

6.2KW

220V, 

6.2KW

220V, 

6.2KW

Weight (kg)
700
750
770
1000
1000
1200
Dimension(m)
1.1×0.65×1.7
1.6×0.7×1.9
1.8×0.7×1.9
1.8×0.7×1.9
1.8×0.7×1.9
2.1×0.9×2
Origin
China
China
China
China
China
China
Feature of high-speed rotary label printing machine:
Provide simple, safe, reliable operation. 
Precision equipment and design programs that make the machines more durable. 
Down time and waste reduction to ensure less cost-effectiveness. 
High-quality tension regulation. 
Non-stop machine on precise color registration, the precision of overprint reach ±0.1 mm. 
Duct unique designs can be printed oily based-ink and water base-ink. 
Washable, color-fadedness. 
Can be very easily change difference size printing cylinder, and can be change the difference spec ink duct and anilox roller. Textile accessories, garment label, paper, all kinds of rolls paper and etc. 
Printing front side 2 colors,back side 1 color,Colour and lustre is bright beautiful.For better result.and printing better black and better white. 
Advantages:
1) The crank connecting-rod wavers structure is adopted for large and equal ink quantity.
2) The machine has low noise for the automatic lubricating equipment.
3) You can print double sides at the same time.
4)High printing speed,image and character clearly and beautifully.
Ultimate Corporation is one of leading indenter and local agent for international or local trading of best quality row materials and machinery in Bangladesh for RMG accessories.  We have over then 10 officer and 10 Machine specialist for providing support quickly with best quality as part time worker. In production field more over 30 Machine operator are working who are always ready to providing support for machine production.Read More >>
OUR VISION 
 To be most trusted partner for providing industrial machinery and  raw materials countrywide.
Make a platform for industrialist and supplier to make solution all of industrial source problem.
Make a  large professional team for providing instant services.
Online based communication website for Bangladeshi industrialist.