Rotary Label Printing Machine
This machine is used for all kinds of belt materials. Such as satin tape, ribbon tape, fashion trademark, cloth trademark .rubber tape. Woven label, elastic band Paper tape and etc.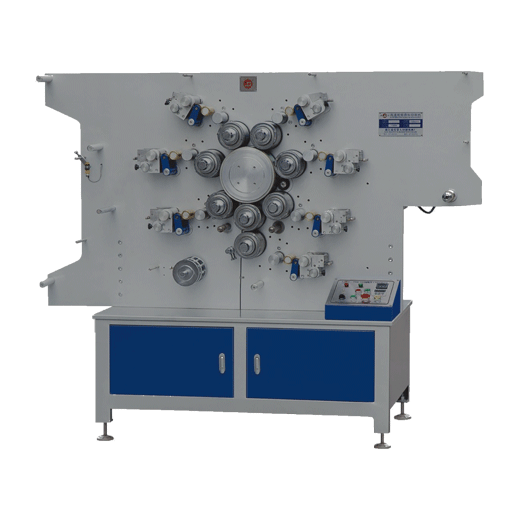 Main Technical Parameters
Model
JS-1061B
JS-

1041B

JS-

1041B

Printing Area (mm) L×W
394×100mm
394×100mm
394×100mm
Printing Speed (rpm)
150
150
150
Clour
7 (6+1,5+2,4+3,)
6 (5+1, 4+2)
4 (3+1, 2+2)
Power
220V, 2kw
220V, 2kw
800
Weight (kg)
950
900
1.76×1.74×1.65
Dimension(m)
2×0.78×1.65
1.6×0.78×1.65
1.4×0.78×1.65
Origin
China
China
China
Feature of high-speed rotary label printing machine:
1) Extensive printing scope: small label in shirt, some clothes etc, such as satin tape, polyester tape, woven tape, paper tape, adhesive tape, elastic band.
2) High-speed printing: can print 3600m, every hour; be equal to eight times of platen ribbon press.  Can economize time and man power.
3) Fine printing results: Make use of round-press-round koshers printing principle to print solid and immature type face dependable smooth and limpid, several colors still keep accurate and perfect effects in quick and slow speed at the same.
4) Easy to operate: A common studier should be trained only for three day and can control on his own , including plate correction, dyeing, adding and collecting materials, speeding up and down.
Advantages: 
1) The crank connecting-rod wavers structure is adopted for large and equal ink quantity.
2) The machine has low noise for the automatic lubricating equipment.
3) You can print double sides at the same time.
4)High printing speed,image and character clearly and beautifully.
Ultimate Corporation is one of leading indenter and local agent for international or local trading of best quality row materials and machinery in Bangladesh for RMG accessories.  We have over then 10 officer and 10 Machine specialist for providing support quickly with best quality as part time worker. In production field more over 30 Machine operator are working who are always ready to providing support for machine production.Read More >>
OUR VISION 
 To be most trusted partner for providing industrial machinery and  raw materials countrywide.
Make a platform for industrialist and supplier to make solution all of industrial source problem.
Make a  large professional team for providing instant services.
Online based communication website for Bangladeshi industrialist.